Student accused of Harvard bomb hoax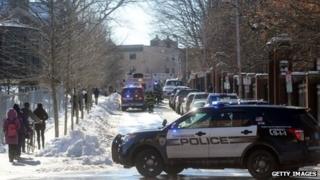 A Harvard University student has been charged with making bomb threats following the evacuation of four campus buildings on Monday.
The US attorney's office says Eldo Kim, 20, is accused of emailing hoax messages with a subject line "Bombs placed around campus".
He is due in court on Wednesday.
Final exams, which had been under way at the elite college in Cambridge, Massachusetts, were cancelled in the affected buildings.
Students were told to evacuate a dormitory, two classroom buildings and the science centre.
Prosecutors said emails to police, university officials and a student newspaper warned that shrapnel bombs would go off in two of the four buildings.
After a thorough search taking several hours revealed no explosives, the buildings were reopened.
It was the latest security threat to a US college in recent months.
In November, Yale University in Connecticut was locked down for nearly six hours following a report of an armed man, which was later found to be a hoax.
In February, a gunman was reported on the campus of the prestigious Massachusetts Institute of Technology. That also proved false.