New York subway rolls over blind man and guide dog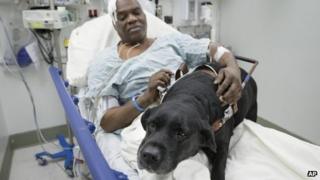 A blind man and his guide dog fell onto the New York City subway tracks but escaped without serious injury after a train rolled over them.
Cecil Williams, 61, stumbled onto the tracks and his dog, Orlando, jumped after him before the train entered the station, unable to stop in time.
Both were in stable condition, authorities said.
Mr Williams told the Associated Press he fainted on his way to the dentist and Orlando "tried to hold me up".
"The dog saved my life," he told the news agency.
'I'm feeling amazed'
The incident occurred at the 125th Street A train station in Manhattan on Tuesday morning.
Witnesses reported seeing Mr Williams standing too close to the platform's edge as Orlando, 10, attempted to pull him away from danger.
"His feet were on the edge, he was wobbling, and the dog was barking," witness Ana Quinones told the New York Post.
After Mr Williams fell, the certified guide dog - a black Labrador - jumped from the subway platform on to the tracks.
"But there was nothing he could do once he was down there," Ms Quinones added. "He just sat there with the man. He just licked the man's face trying to get him to move."
Commuters signalled to the oncoming train's driver, who activated the emergency brakes. But the train could not stop in time and at least two wagons were said to have rolled over the pair.
Mr Williams were not badly hurt and emergency workers rescued the two.
Orlando was examined by police officers for injuries and later taken to Mr Williams in hospital.
Mr Williams said he was unsure why he fainted but said he was on insulin and other medications.
"I'm feeling amazed," he said. "I feel that God, the powers that be, have something in store from me. They didn't take me away this time."
A resident of the borough of Brooklyn, Mr Williams has been blind since 1995. Orlando is his second guide dog.
He said he was looking for a home for Orlando as the dog would be retiring after he turned 11 and his health insurance would not cover the cost of a dog that did not work.