Indiana groom William Knight dies helping motorist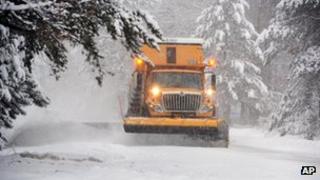 A newlywed in the US state of Indiana was killed just hours after his wedding when he was struck by a car while helping a stranded motorist.
William Knight was leaving the reception with his new bride, Nikki, when they saw a woman whose car had slid off the road in snowy conditions.
Both Knight and the motorist, Linda Darlington, were later struck and killed by multiple vehicles.
No charges have been filed in the incident, authorities say.
"I went from a being a newlywed to a widow in less than 48 hours - the highest high to the lowest low," Mrs Knight told the Associated Press news agency following Saturday night's accident.
Good Samaritan
Mrs Knight, a registered nurse, said that neither her husband nor Ms Darlington had pulses when she checked after the accident. Both were pronounced dead at the scene.
Her new husband had been driving them both to their hotel near the city of Crown Point when they saw Ms Darlington, 42, stranded.
Knight told his bride to wait in their vehicle in a nearby driveway while he went to help.
Both he and Ms Darlington were standing by the side of the road when they were struck by a number of vehicles.
Knight, 49, was a former US Army Ranger who had served in Operation Desert Storm during the first Gulf war, according to media reports.
"It's a very sad, tragic situation. [Knight] was a Good Samaritan trying to help this woman in distress," Patti Van Til, a spokeswoman for the Lake County, Indiana, sheriff's office, told the Chicago Tribune newspaper.