Three stabbed after Denver Broncos football game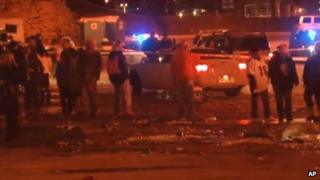 At least three people were stabbed outside an American football stadium in Denver following the late-night end of a game, police have said.
Authorities say three males and possibly a fourth person who later fled the scene were injured.
Several people were taken into police custody, but no charges have yet been filed.
The fight occurred outside the Sports Authority Stadium Field at Mile High, home of the Denver Broncos.
Police spokesman Steve Warneke described the incident as "very chaotic", and said it was not yet clear if those involved had attended the game.
One person was listed in critical condition but all involved were conscious and communicating with authorities.
The Denver Broncos lost the game on Thursday 27-20 to the visiting San Diego Chargers.