US Senator Lamar Alexander aide held on child porn charge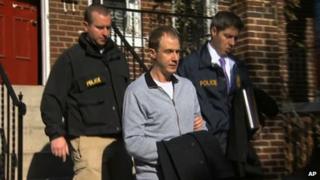 An aide to senior Republican Senator Lamar Alexander has been arrested on charges of child pornography, US authorities say.
Jesse Ryan Loskarn was taken into custody by US Postal Inspection Service officials in Washington DC for possession and distribution of the unspecified illicit material.
Mr Alexander's political chief of staff was then removed from his position.
Mr Loskarn is scheduled to appear in a federal court on Thursday.
Stunned and surprised
"I am stunned, surprised and disappointed by what I have learned," Mr Alexander wrote in a statement, adding his office was fully cooperating with investigators.
Mr Loskarn, 35, had worked on Capitol Hill for more than a decade and was named Mr Alexander's chief of staff in 2012, according to media reports.
Mr Alexander, first elected to the Senate in 2002, previously served as the US Secretary of Education and as governor of Tennessee.
Authorities reportedly searched Mr Loskarn's home as well as his work computer within Mr Alexander's office on Wednesday.
Mr Alexander subsequently removed Mr Loskarn from the chief of staff position and promoted another long-time aide, David Cleary, to the role.
"The courts will judge Mr Loskarn's guilt or innocence, but under these circumstances, he cannot continue to fulfil his duties as chief of staff of this office, Mr Alexander later said.