No domestic violence charges for George Zimmerman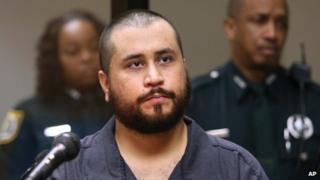 Prosecutors have declined to file domestic violence charges against a Florida man previously acquitted of murder in the death of an unarmed black teenager.
George Zimmerman was arrested on 18 November after reportedly pointing a shotgun at his girlfriend.
She later declined to cooperate in the investigation against him.
Mr Zimmerman has had several brushes with the law since his acquittal in the 2012 killing of Trayvon Martin, 17.
Florida State Attorney Phil Archer said on Wednesday he would not pursue aggravated assault, battery and criminal mischief charges against Mr Zimmerman due to a lack of corroborating evidence.
Mr Zimmerman's girlfriend, Samantha Scheibe, alleged he pointed a shotgun at her face at the home they shared.
He was also said to have choked Ms Scheibe a week prior to the incident, officials reported.
Ms Scheibe later formally recanted the allegations in a sworn statement to authorities.
"I am not afraid of George in any manner and I want to be with him," Ms Scheibe wrote, according to media reports.
A 'tragedy'
Mr Zimmerman's previous acquittal of second-degree murder over the February 2012 killing of Martin sparked a fierce debate about racial profiling and gun culture in the US.
Mr Zimmerman shot dead the teenager, who was unarmed and walking at night toward his father's house. He said the boy had attacked him.
Following the verdict, protest marches were staged across the US including San Francisco, Philadelphia, Chicago, Washington and Atlanta.
US President Barack Obama said the incident was a "tragedy" which should prompt national soul-searching.
Since then Mr Zimmerman has had several incidents with officials including being briefly detained following a domestic disturbance at the home of his estranged wife, Shellie.