FDA to curb antibiotic use in livestock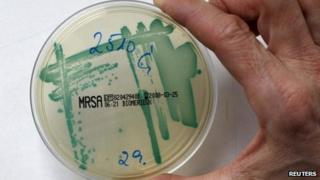 The US food safety regulator is moving to phase out some use of antibiotics in livestock in an effort to curb growing antibiotic resistance in human disease.
The Food and Drug Administration has asked pharmaceutical firms voluntarily to relabel their drugs to prevent them being used in healthy animals.
In the US food supply, antibiotics are routinely fed to healthy livestock to enable them gain weight faster.
As many as 23,000 Americans a year die from antibiotic-resistant infection.
But it is unclear how much of the problem is related to meat.
"Because all uses of antimicrobial drugs, in both humans and animals, contribute to the development of antimicrobial resistance, it is important to use these drugs only when medically necessary," the Food and Drug Administration (FDA) said in a statement.
The FDA believes a voluntary move is the fastest way to begin phasing the drugs out.
Michael Taylor, the agency's deputy commissioner of foods, said if the FDA made the restriction mandatory, the agency would have had to move through a regulatory process that could take years.
"We have high confidence based on dialogue with industry that this initiative will succeed," Mr Taylor said.
The animal health division of pharmaceutical firm Eli Lilly said in a statement it would follow the new guidance, pledging to narrow its labelling "only to therapeutic purposes of treating, controlling and preventing diseases in animals under the supervision of a veterinarian".
The FDA guidance comes a month after the agency moved to ban the use of trans fats in food production.
'A hollow gesture'
In September, the Centers for Disease Control and Prevention (CDC) estimated that about 23,000 people a year die from drug-resistant infections, with the largest risk stemming from germs spread in hospitals.
Antibiotics are often added to the feed of cattle, chickens and other animals used as meat to prevent infection in tight conditions and help them gain weight.
Under the new guidance, pharmaceutical companies are asked to change the labelled uses of their drugs in order to prevent them being fed to livestock for the purposes of growth enhancement and "feed efficiency", the FDA said.
If pharmaceutical firms change the labelling on the drugs, meat producers will only be able to use the antibiotics on sick animals - with a veterinarian's prescription.
"We commend FDA for taking the first steps since 1977 to broadly reduce antibiotic overuse in livestock," Laura Rogers of the Pew Charitable Trusts' human health and industrial farming campaign said.
"There is more work to do, but this is a promising start, especially after decades of inaction."
But some advocates say the move was too little too late.
Democratic Representative Louise Slaughter, a microbiologist, told the Associated Press the action should have been mandatory, and guidance that gives firms three years to make the change "falls woefully short of what is needed to address a public health crisis".
And the Natural Resources Defense Council called the measure a "hollow gesture".
"FDA has essentially followed a voluntary approach for more than 35 years, but use of these drugs to raise animals has increased," the group said in a statement.