Actress Shannon Richardson pleads guilty in ricin case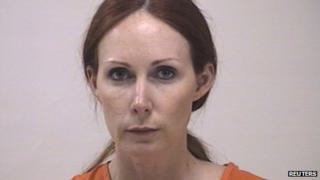 An actress from Texas has pleaded guilty to posting ricin-laced letters to US President Barack Obama and New York Mayor Michael Bloomberg.
Shannon Richardson, 35, faces up to 18 years in prison.
Before her arrest in June, she accused her estranged husband Nathaniel of sending the three poisoned letters in an apparent attempt to frame him.
Richardson has played small roles in The Vampire Diaries and The Walking Dead, according to IMDB.
Husband framed
Richardson appeared in a federal court in Texarkana, Texas, on Tuesday, pleading guilty to possessing and producing a biological toxin, which could have carried a sentence of life in prison.
Under the plea deal with federal prosecutors, she faces a maximum of 18 years. She will be formally sentenced at a later date.
Richardson's lawyer Tonda Curry said she was eager to "admit her role in ordering the components to make the ricin, her role in the letters that contained the ricin, and to tell the government who else was involved in those offenses".
Officials say Richardson contacted the FBI on 30 May to implicate her estranged husband, from whom she was getting a divorce, in the letters.
According to a federal indictment, one letter to Mr Obama read: "What's in this letter is nothing compared to what ive got in store for you mr president."
Another letter received by Mr Bloomberg, a gun control advocate, contained a threat to "shoot in the face" anyone who came for the sender's guns.
A third ricin-laced letter was opened by Mark Glaze, director of Mayors Against Illegal Guns, a gun control advocacy group founded by Mr Bloomberg.
Failed lie detector test
A lawyer for Nathaniel Richardson, a military mechanic at a Texarkana Army depot, previously said the couple was in the process of divorcing during the time the letters were sent.
The couple were expecting their first child together. Ms Richardson has five other children from previous relationships.
Officials investigating Shannon Richardson's story found a number of inconsistencies and she later failed a lie-detector test, according to an FBI affidavit.
During a subsequent interview with authorities, Richardson reportedly admitted posting the letters, knowing they contained ricin.
But she claimed her husband had typed them before making her post them. No charges have been filed against Mr Richardson.