FBI arrest Los Angeles sheriff's deputies in misconduct probe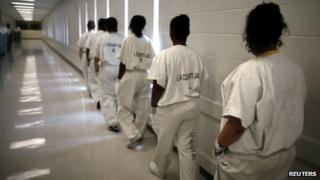 Sixteen Los Angeles County sheriff's deputies have been arrested by the FBI in an investigation into misconduct in local jails, officials have said.
The deputies have been charged with conspiracy, obstruction and giving false statements, officials said.
The FBI had been investigating allegations of excessive force and misconduct at county jails since 2011.
The inquiry uncovered a "wide scope of criminal conduct", the federal official in charge of the case said.
'Institutionalised misconduct'
Andre Birotte, US Attorney for the Central District of California, told reporters on Monday the charges against 18 deputies in total were filed in connection with corruption at the multiple downtown jail complexes.
The FBI investigation found evidence of civil rights violations of inmates as well as visitors to the jails, according to Mr Birotte.
"The pattern of activity alleged in the obstruction of justice case shows how some members of the Sheriff's Department considered themselves to be above the law," he said.
"Serious misconduct", including instances of excessive force and filing false reports, became "institutionalised", Mr Birotte added.
Sheriff's officials also reportedly moved an FBI informant in an effort to thwart the internal probe.
The sheriff's officials allegedly moved the inmate and changed his name in the department's internal inmate database to show falsely that he had been released, the Los Angeles Times reports.
The American Civil Liberties Union had previously accused the sheriff's department of more than 70 cases of misconduct by deputies and sued in 2012.
Following the allegations, the county appointed a former county prosecutor in November to oversee the sheriff's department, the Associated Press news agency reported.