Ex-San Diego mayor Bob Filner receives probation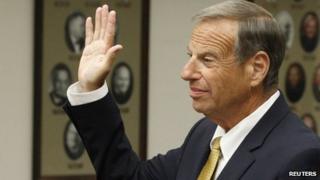 The former mayor of San Diego has been sentenced in connection with the sexual harassment scandal that saw him pushed out of office.
Bob Filner, 71, got three months of home confinement and three years of probation after pleading guilty in October to one count of false imprisonment and two counts of battery.
He was accused of physically restraining and groping women, including a member of his staff.
He resigned from office in August.
Filner had faced up to four years in prison for the felony and two misdemeanour counts, but reached a plea deal with prosecutors.
Under the terms of the deal, Filner is not allowed to seek or hold elective office during his probation and will be monitored by a GPS device.
His home confinement is scheduled to begin on 1 January and end on 31 March.
Series of accusations
"Today is the day that Bob Filner begins to pay his debt to the citizens of San Diego," Melissa Mandel, supervising state deputy attorney general, told reporters.
During his sentencing, Filner pledged the actions that led to his arrest "will never be repeated".
"I want to apologise to my family who have stood by me through this ordeal, to my loyal staff and supporters, the citizens of San Diego and most sincerely to the women I have hurt and offended," he said.
Filner had previously admitted to touching a woman on the rear during a political rally and kissing another woman on the lips at a public "Meet the Mayor" event.
He also admitted to felony false imprisonment for restraining a woman in a headlock against her will at a fundraiser, applying more force when she resisted.
The former 10-term congressman was less than one year into his term as mayor of the southern California city when his former communications director accused him of sexual harassment and filed a lawsuit against him.
Irene McCormack Jackson said her former boss demanded kisses from her, told her he wanted to see her naked, and put her in a headlock.
After Ms McCormack Jackson filed the lawsuit, almost 20 women came forward accusing Filner of a variety of inappropriate behaviour.
They included a retired Navy rear admiral, a San Diego State University dean and a great-grandmother who volunteered at city hall.
Fellow California politicians called on him to resign and a recall effort was undertaken to remove him from office. Filner initially protested his innocence, insisting that he would ultimately be vindicated.
Two city councilmen - one Republican and one Democrat - are running to replace him as mayor in a special runoff election in February 2014.