Top Gun muse Christine Fox promoted to Pentagon deputy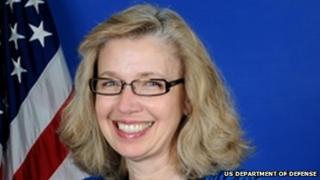 The flight instructor who was the inspiration for the female love interest in the film Top Gun has become acting deputy head of the Pentagon.
Christine Fox, who was played by Kelly McGillis in the blockbuster 1986 movie, is now the highest ranked woman ever at the US Department of Defense.
She is "a brilliant defence thinker and proven manager", said Defence Secretary Chuck Hagel.
Ms Fox will act as his number two until a permanent replacement can be found.
A senior defence official told the BBC that Ms Fox, who began her new role on Thursday, was "the perfect person to stand beside the secretary" during the next few months, as the Pentagon deals with budget cuts.
Until this summer, she had been in charge of cost assessments for the Department of Defense. She worked for a military think tank before that.
In 1985, she was a civilian flight school instructor at a naval air station in San Diego, California, when Top Gun producers Don Simpson and Jerry Bruckheimer visited the facility while researching the movie.
They were in need of inspiration for an empowered female character who could play Tom Cruise's love interest.
The admiral commanding the air station introduced them to Ms Fox, according to a People magazine profile.
In the movie, she became astrophysicist Charlie, who lectures Top Gun pilots on enemy fighter capabilities.