US House votes to ban plastic guns for another 10 years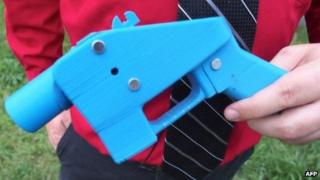 The US House of Representatives has approved a 10-year extension of a ban on plastic guns invisible to metal detectors.
The bill is expected to pass the Senate next week before it expires, though some Democrats hope to expand it.
They want the 25-year-old law to require a gun's firing mechanism to contain at least one detectable but undetachable metal piece.
The ban has gained new relevance with the spread of at-home 3D printing.
The National Rifle Association (NRA), America's largest and most powerful gun lobby group, issued a statement before the House vote on Tuesday opposing any expansion of the law.
The House, which is controlled by the conservative Republican Party, nevertheless approved the Undetectable Firearms Act's extension for another decade by a voice vote.
Democrat Charles Schumer, a New York Democrat who has championed expanded gun control laws, has pushed for an amendment to the law that would require a metal part.
But analysts say the NRA's lobbying power leaves it unlikely the law will be broadened before next year's mid-term election.
Democratic Representative Robert Scott said passage of the bill in the House "should not be interpreted that the statute should not be updated for the duration" of the extension.