New York train crash driver 'lost focus' before crash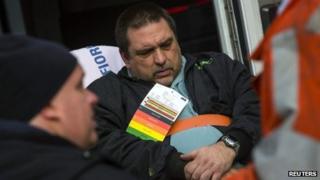 The driver of a New York commuter train that derailed, killing four, lost focus moments before the crash, a union leader has said.
William Rockefeller, 43, "basically nodded" and caught himself too late to stop the train, Anthony Bottalico of the rail employees' union told the AP.
The Metro-North train was travelling at nearly three times the speed limit on a bend when it jumped the tracks.
Investigators say it will take weeks to learn the cause of Sunday's crash.
Officials from the National Transportation Safety Board (NTSB) would not comment on Tuesday on Mr Rockefeller's level of alertness before the train wreck on Sunday morning.
'Car-like' daze
Mr Rockefeller told emergency officials on the scene he had been "in a daze", US media reported earlier, citing law enforcement sources.
He also told investigators that "he nodded. He zoned out," Mr Bottalico, chairman of the Association of Commuter Rail Employees, told Reuters.
"He had the equivalent of what we all have when we drive a car," Mr Bottalico said, according to the Associated Press news agency, describing what Mr Rockefeller had related to him.
"That is, you sometimes have a momentary nod or whatever that might be. How long that lasts, I can't answer that."
Mr Rockefeller was "very traumatised" and had not slept in 24 hours following the crash, Mr Bottalico, the union leader, said earlier.
"He's devastated by the loss of life, by the injuries to the passengers and his fellow crew members, and he's extremely upset about all of it," he said.
Mr Rockefeller, who had never been disciplined for job performance as train driver, has retained a defence lawyer for his interviews with crash investigators, Mr Bottalico said.
On Tuesday, National Transportation Safety Board (NTSB) member Earl Weener said drug and alcohol tests on Mr Rockefeller came back negative.
And he said investigators had so far found no "anomalies" in the train's brake system and that Mr Rockefeller had been on the second day of a normal shift pattern.
"There's every indication that he would have had time to get full restorative sleep," Mr Weener said.
'Unjustifiable' speed
On Monday, Mr Weener told reporters the train's data recorder had shown action had been taken to reduce the train's speed from 82mph (132 km/h) on a 30mph curve - but was done so far too late.
He said the train's throttle was reduced to idle six seconds before the train skidded to a stop after derailing and its brakes were activated five seconds before.
"He caught himself, but he caught himself too late... He powered down, he put the train in emergency, but that was six seconds prior to derailment," Mr Bottalico said, according to the Associated Press.
The train was heading to New York City's Grand Central station from Poughkeepsie, New York, when it crashed at 07:20 local time (12:20 GMT).
Four people were killed and more than 60 injured as the train derailed and came to a stop a short distance from the Harlem River in New York's Bronx borough.
As the investigation continues, New York Governor Andrew Cuomo ordered the Metropolitan Transportation Authority, which runs Metro-North, to make sure all employees have safety briefings.
Mr Cuomo also said officials at the agency must ensure the driver "is disciplined in an appropriate way".
"There's such a gross deviation from the norm. That amount of speed is certainly unjustifiable."
The speed limit for the straight-away north of the curve was 70mph.
Connecticut Governor Dannel Malloy has asked the train service to provide an action plan on safety following the accident. The commuter train runs lines to New York City in both states.
Meanwhile, Mr Bottalico said he was confident the investigation would reveal there was no criminal intent.