Obamacare: Deadline to fix website passes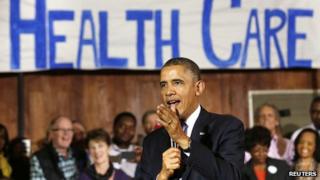 A deadline to overhaul the website of President Barack Obama's healthcare reform law has passed but it is unclear if all the glitches have been fixed.
Technicians worked around the clock to meet the midnight deadline but the site was due to go offline for maintenance early on Sunday.
The BBC's Katy Watson in Washington says the test will come as people return from Thanksgiving holidays.
Problems with the website have led to a drop in Mr Obama's approval ratings.
White House officials said the HealthCare.gov site was working well on Saturday after overnight hardware upgrades to boost its capacity.
Software fixes to improve speed and reduce errors were planned for overnight Saturday into Sunday morning.
An update on the website's progress is due to be released later on Sunday by Jeff Zients, the site's chief troubleshooter.
HealthCare.gov is a key element of President Obama's flagship 2010 Patient Protection and Affordable Care Act - also known as Obamacare - which aims to provide affordable health insurance to the estimated 15% of US citizens who lack it.
But since its 1 October launch, the site has been plagued by errors, outages and slow speeds.
Our correspondent says that on Saturday, log-in functions appeared to work smoothly, but it will be a few days before it is clear whether the site can handle its target traffic loads of 50,000 users at once.
Despite the setbacks, President Obama has described his healthcare reform law as a legacy to be proud of.
In an interview with ABC News, he said he still believed his Affordable Care Act would make good on his manifesto promise to deliver affordable health care to Americans.
"I continue to believe and [I'm] absolutely convinced that, at the end of the day, people are going to look back at the work we've done to make sure that in this country you don't go bankrupt when you get sick, that families have that security," he said.
"That is going be a legacy I am extraordinarily proud of."
Obamacare has been strongly criticised by Republican party politicians and many private health providers, who say it is too expensive and an unwarranted intrusion into the affairs of private businesses and individuals.
Their opposition intensified after the troubled launch of HealthCare.gov in October.
The website, which services 36 states, signed up just 27,000 people in the first month while the 14 states that run their own websites enrolled 79,000.
The total of around 106,000 was far off the administration's estimate that nearly 500,000 people would enrol within the first month.
The White House promised a "smooth experience" for the "vast majority" of website users by the end of November.
An ABC News-Washington Post poll released last week showed the president's job approval rating fell to 42%, down 13 percentage points this year and 6 points in the past month.