Joe Biden to visit China and Japan over disputed air zone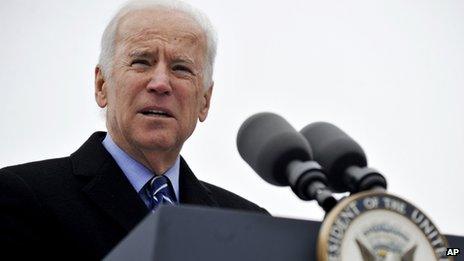 US Vice-President Joe Biden will convey to China US concerns over its declaration of an air defence zone over disputed islands in the East China Sea, the White House has said.
On a long-planned trip to Asia next week, he will also visit Japan and South Korea, the White House said.
On Saturday, China declared aircraft crossing the zone must obey its rules or face "emergency defensive measures".
US Defence Secretary Chuck Hagel called the move "potentially destabilizing".
On Wednesday, Mr Hagel reaffirmed that a longstanding mutual defence treaty with Japan also applies to the disputed East China Sea islands at the heart of the tension between China and Japan.
The islands, known as Senkaku in Japan and Diaoyu in China, have been a sore point between the two Asian powers for decades.
The new air zone, announced by China on Saturday, overlaps with an air zone set out by Japan and covers islands that Japan controls.
Japan has already lodged a strong protest over what it said was an "escalation" by China.
Mr Hagel spoke with Japan Defence Minister Itsunori Onodera, commending the Japanese government for "exercising appropriate restraint" in the wake of China's decision to declare the air defence identification zone.
He also "assured Minister Onodera that US military operations will not in any way change as a result of China's announcement, noting that recent routine and long-planned US flight operations have already occurred as normal", a Pentagon spokesman said in a statement.
Meanwhile, Mr Biden will embark on 2 December on a week-long diplomatic mission to discuss what a senior Obama administration official called "an emerging pattern of behaviour by China that is unsettling to China's own neighbours and raising questions about how China operates in international space and how China deals with areas of disagreement".
"The visit to China creates an opportunity for the vice-president to discuss directly with policymakers in Beijing this issue, to convey our concerns directly and to seek clarity regarding the Chinese intentions in making this move at this time," the official said, referring to China's declaration.
In its statement announcing the air defence zone, the Chinese defence ministry said aircraft crossing the zone must report a flight plan, "maintain two-way radio communications", and "respond in a timely and accurate manner" to identification inquiries.
"China's armed forces will adopt defensive emergency measures to respond to aircraft that do not co-operate in the identification or refuse to follow the instructions," the statement said.
The US - which has more than 70,000 troops in Japan and South Korea - had previously said it would not abide by the Chinese-imposed zone.
The US has already flown two B-52 bombers over the islands in defiance of the new Chinese rules.
The unarmed aircraft took off from Guam on Monday and were part of "normal procedures", according to defence officials.
Former Obama administration Assistant Secretary of State for Public Affairs PJ Crowley called the US flight "undoubtedly reassuring to many in the region concerned about a more assertive China.
"China's attempted power play over the disputed islands is another example of its struggle to wield influence in the region but consistently doing so in ways that are advantageous to the United States," he told the BBC.
Taiwan, which also claims the islands, has expressed regret at the Chinese move and promised that its military would take measures to protect national security.
Australia has also expressed opposition over the zone.
Foreign Minister Julie Bishop summoned the Chinese ambassador on Tuesday, saying "the timing and manner" of China's announcement were "unhelpful in light of current regional tensions".
Japan Airlines and All Nippon Airlines have said they will stop filing flight plans demanded by China on routes through the zone following a request from the Japanese government.
But Singapore Airlines and Australia's Qantas have both said they will abide by the new rules.