Sriracha hot sauce factory production partially halted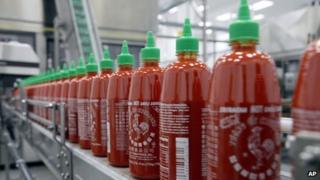 A California judge has temporarily curbed production of the popular sriracha Asian-style hot sauce after residents of a Los Angeles suburb complained of the factory's odour.
The fumes emitted from Huy Fong Foods' factory in Irwindale are "extremely annoying, irritating and offensive to the senses", Judge Robert O'Brien said.
He ordered the company to cease any operations that cause the odours.
The factory churns 100 million lb (45.4 million kg) of chilli pepper a year.
Tear-inducing odours
Mr O'Brien did not specify the types of actions required by his ruling, and stopped short of ordering the factory to shut down entirely.
Irwindale City Attorney Fred Galante called it "a strong ruling that acknowledges and is reflective of the concerns that the community has raised about the health impacts of the odour", Reuters news agency reported.
The city of Irwindale sued the hot sauce manufacturer on 21 October after residents complained of health ailments - including heartburn, asthma and nosebleeds - as a result of the factory's odours.
Mr O'Brien found there was a "lack of credible evidence" linking such health problems to the factory, but said the city was "likely to prevail" if the fumes were labelled a public nuisance.
His injunction is an interim measure while the court considers the city's lawsuit, which is not expected to go to trial for several months.
Huy Fong Foods founder David Tran says his company, which made about $85m last year, has been working with the city to reduce the smell.
But he has said he will not change the type of chilli pepper used, as it makes for a better hot sauce.
"If it doesn't smell, we can't sell," Mr Tran has said. "If the city shuts us down, the price of sriracha will jump a lot."