US asks Iran to 'secure' ex-FBI agent Robert Levinson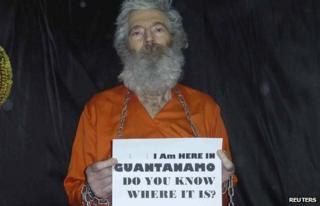 The White House has called on Iran to help locate and free ex-FBI agent Robert Levinson, who US authorities believe is held captive in the country.
Mr Levinson went missing during a business trip on the Iranian island of Kish in March 2007.
His family received images of Mr Levinson in chains in April 2011.
The White House request comes just days after Iran and Western powers signed an interim agreement aimed at curbing Iran's nuclear programme.
"Today, Mr Levinson becomes one of the longest held Americans in history," White House spokesman Jay Carney wrote in a statement on Tuesday.
"As we approach the upcoming holiday season, we reiterate the commitment of the United States Government to locate Mr Levinson and bring him home safely to his family, friends, and loved ones.
"We respectfully ask the government of the Islamic Republic of Iran to assist us in securing Mr Levinson's health, welfare, and safe return."
In August, US Secretary of State John Kerry also asked for Iran's assistance in freeing Mr Levinson and two other US citizens held in Iran, a former marine and a Christian pastor.
'Help me'
Mr Levinson, 64 when he went missing, had been investigating cigarette counterfeiting as a private detective when he disappeared.
Though he has appeared in images and videos as a captive, Iran says it does not know where he is and that there is no evidence he is in the country.
The pictures received by the family show Mr Levinson wearing a long grey beard, in an orange jumpsuit, holding up five signs that read:
4th YEAR... You can't or you don't want...?
This is the result of 30 years serving for USA
Why you can not help me
I am here in Guantanamo - Do you know where it is?
Help me
The family were also sent a video in November 2010, which it released in December 2011 to try to aid the investigation.
In the 54-second clip, Mr Levinson pleads: "Help me get home."
Investigators traced the phone used to send the photographs to Afghanistan, but the owner was not involved. The video was sent from a Pakistan internet cafe.
The FBI offered a $1m (£624,000) reward in March 2012 for information leading to Mr Levinson's safe return.
The White House request comes just days after a deal was reached between Iran and the US, UK, France, Russia, China and Germany regarding Tehran's nuclear programme.
The six-month interim deal struck in Geneva on Sunday saw Iran agree to curb some of its nuclear activities in return for limited relief from international sanctions.
The West has long suspected Iran's uranium enrichment programme is geared towards making a weapon, but Tehran insists it only wants nuclear energy.