Trey Radel: Florida Republicans urge cocaine congressman to quit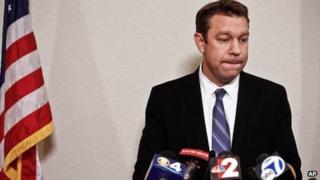 The Republican Party of Florida is calling on disgraced congressman Trey Radel to "resign immediately" after his conviction for cocaine possession.
Chairman Lenny Curry released a statement saying that the 37-year-old should quit and "focus his attention on rehabilitation and his family".
Radel's aide said the representative, who has a taken leave of absence, would return to work as soon as possible.
He won election easily last year with the support of Tea Party activists.
But after last Wednesday's conviction in Washington DC, he was accused of hypocrisy as it was pointed out that he had recently voted for a bill containing a measure that mandated drug tests for poor Americans who apply for food aid.
The father-of-one, who was given a year's probation, blamed his mistake on a personal struggle with alcoholism and substance abuse. He also pledged to donate some of his salary to charity.
But on Tuesday, Florida Governor Rick Scott joined the growing number of Republican leaders in the state who have urged Radel to step down.
He spoke out a day after the state's party said in a statement: "We feel it is in the best interests of all involved that he [Radel] resign immediately."
Radel's aide, however, did not give any sign that the embattled politician would bow to pressure.
Spokesman Dave Natonski wrote on Tuesday in an email to the Associated Press news agency that the representative's "top priority right now is to complete his rehabilitation and then return to work as soon as possible".
Radel admitted buying 3.5g (0.12oz) of cocaine from an undercover agent on 29 October in Washington DC.