President Obama 'pushes back' on Iran sanction critics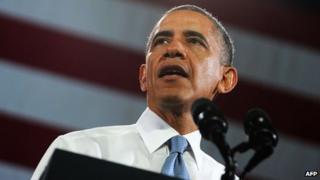 President Obama has, as they say here, "pushed back" against his critics at home and abroad.
He's not just defending the Iran deal, he's painting it as part of a bigger picture, robustly linking it to his wider foreign policy aims of bringing old conflicts to an end.
Obama the peacemaker will not convince Republican critics who compare him to Chamberlain.
He will not persuade Israel's prime minister that he will achieve his aims. Equally there will be those on the left who see his drones policy as a negation of his claims, and liberal interventionists will still throw up their hand at his unwillingness to sort out Syria.
But, I suspect, he strikes the right tone for many Americans.
'Warmongers'
In a speech in San Francisco that was mainly about immigration reform, he said the strongest country in the world has to engage in clear-eyed diplomacy even with its enemies.
He said he hoped the deal would chip away at the distrust between Iran and the US.
To cheers, he told the crowd that tough sanctions had led to a deal that for the first time in a decade would roll back key parts of Iran's nuclear programme.
He made opponents of the deal sound like politically driven warmongers, saying: "We cannot close the door on diplomacy and we cannot rule out peaceful solutions to the world's problems - tough talk and bluster may be an easy thing to do politically, but it is not the right thing for our security."
But he hasn't convinced some in his own party.
Indeed, it has strengthened the resolve of some in Congress to impose new sanctions - the Democratic leader of the Senate, Harry Reid, has hinted that there may be movement after the Thanksgiving holiday.
Congressional sources have told me they do now expect a vote.
It is not clear when the sanctions might kick in, and there is an expectation they could be put on hold until the six months of this interim deal comes to an end.
But this will not please the administration - a state department official has told the BBC that there are fears that cranking up the sanctions could drive the Iranians away from any deal.