Steubenville officials charged with blocking rape inquiry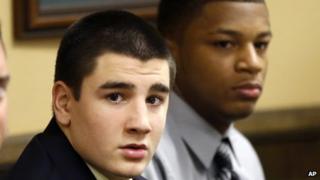 A grand jury in the US state of Ohio has accused a schools superintendent, two coaches and a principal of breaking the law to protect teenage footballers convicted of raping a 16-year-old girl.
Two members of Steubenville's revered high school football team were convicted of sexually assaulting the drunken teenager.
In March they were sentenced to at least a year in juvenile detention.
It was unclear whether the four officials had retained lawyers.
"People need to co-operate with investigations. They need not to hide evidence," Ohio Attorney General Mike DeWine, who announced the charges on Monday, said on CNN.
"How can we hold kids accountable if we don't hold adults accountable?"
A sharp divide
Schools superintendent Mike McVey, 50, was charged with felony obstruction of justice and tampering with evidence, as well as misdemeanour counts of obstructing official business and falsification.
Primary school principal Lynnett Gorman, 40, and assistant wrestling coach Seth Fluharty, 26, were charged with failing to report possible child abuse. Former assistant football coach Matthew Bellardine, 26, was charged with making false statements and contributing to underage alcohol consumption.
In October, William Rhinaman, a technology director for Steubenville schools, was charged with tampering with evidence.
Mr Rhinaman was also charged with lying under oath in connection with the case.
The boys, Trent Mays and Ma'lik Richmond, both 17, were sentenced for the rape and related charges in March.
According to authorities, in August 2012 they left a party with the victim, who was unconscious from drink, and sexually assaulted her in a car and then at a friend's house.
The case came to light via text messages, online videos and social media posts the morning after the rape, attracting nationwide attention.
It caused a sharp divide in Steubenville, an economically depressed former steel town of 18,000 people that had immense pride in its high school football team.
Mr DeWine said a grand jury had heard from more than 100 witnesses in the case and that new charges against any additional individuals, including the head football coach, were unlikely.
"We hope that this frankly brings an end to this," he said. "This community needs to move forward."