US serial killer Joseph Franklin granted stay of execution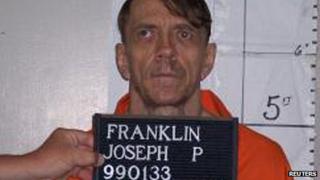 A US federal judge has granted a stay of execution to a white supremacist serial killer amid legal challenges over the use of a new drug in the execution process.
The ruling came hours before Joseph Franklin was due to be put to death in Missouri.
Franklin, 63, was sentenced to death for killing one man and wounding two others outside a synagogue in 1977.
He was also convicted of a series of other racially motivated murders.
Franklin also confessed to being the sniper who shot porn publisher Larry Flynt in 1978, leaving him partially paralysed.
The BBC's Aidan Lewis in Washington says that in the past two years US and European drug manufacturers have sought to distance themselves from executions - cutting off supplies and leaving US states that use the death penalty scrambling for alternatives.
Missouri announced it would instead use pentobarbital, sourced not from a pharmaceutical company but from a compounding pharmacy that makes small batches of drugs on demand for specific clients.
Protocol 'illusive'
However, campaigners object to these pharmacies, partly because they are not subject to regulation by the federal Food and Drug Administration.
In her ruling on Tuesday, US District Court Judge Nanette Laughrey said that a lawsuit filed by Franklin and other death-row inmates challenging Missouri's drug protocol must first be resolved.
She said details of the execution protocol had been "illusive at best".
"It is clear from the procedural history of this case that through no fault of his own, Franklin could not resolve his claims without a stay of his scheduled execution date."
She added: "Franklin has been afforded no time to research the risk of pain associated with the department's new protocol, the quality of the pentobarbital provided, and the record of the source of the pentobarbital."
Franklin was to be executed for shooting a man dead outside a Missouri synagogue in 1977 - one of some 20 killings in which he targeted black and Jewish people across several states.
In 1978 he shot Hustler publisher Larry Flynt after seeing a picture of a mixed-race couple in one of his magazines.
However, Mr Flynt opposes the death penalty and had backed the appeal by convicts on Missouri's death row.