White House officials were warned of Obamacare glitches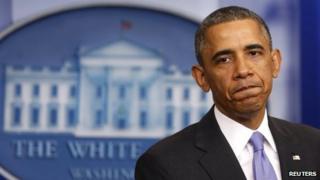 The White House has confirmed US President Barack Obama was briefed on impending problems with his signature healthcare law's website months prior to its October launch.
Senior administration officials heard recommendations made by consulting firm McKinsey & Co in March.
They warned of many of the issues that arose once the website went live.
Those ongoing glitches have caused much lower-than-anticipated enrolment figures for Obamacare.
'Risk of failure'
McKinsey's report, commissioned by the Department of Health and Human Services (HHS), warned of management indecision and a lack of transparency regarding Healthcare.gov, according to media reports.
Briefings on the findings were held in March at the White House, HHS headquarters and at the Centers for Medicare and Medicaid.
Officials were told that work to build the healthcare website - similar to a shopping website for health insurance plans - was at that point falling behind and at risk of failure.
Issues the report cited include "significant dependency on external parties/contractors" and "insufficient time and scope of end-to-end testing", both of which proved problematic once the site officially went live.
The 1 October launch of the federal and state marketplace websites was the culmination of more than three years of political combat in Washington over the Patient Protection and Affordable Care Act, signed into law by Mr Obama in 2010 and known as Obamacare.
Considered the largest overhaul of the US healthcare system since the 1960s, it aims to extend health insurance coverage to the estimated 15% of the US population who lack it. But the law has become a political touchstone, with Republicans repeatedly attempting to remove its funding.
"The administration was on track - on track for a disaster - and yet officials refused to be transparent with the Congress and the American people," said Fred Upton, Republican Chairman of the House Energy and Commerce Committee which released the McKinsey report.
'Fumbled the rollout'
On Tuesday, White House spokesman Jay Carney said the McKinsey recommendations had been heard by the Healthcare.gov development team, but that no one had anticipated the size and scope of potential problems.
Those issues have proven so severe that fewer than 27,000 people in 36 US states are reported to have successfully enrolled in healthcare policies on the federal website since it launched.
About 79,000 managed to enrol using websites run by the other 14 states and Washington DC.
Political support, even within Mr Obama's Democratic party, has waned in recent weeks amid the website's ongoing problems and revelations that insurance companies have cancelled millions of Americans' medical insurance policies because they did not meet the stricter conditions of the healthcare overhaul.
That was despite the president's promise that people would be able to keep their existing plans.
On 14 November Mr Obama acknowledged his administration had "fumbled the rollout" of Obamacare and announced a one-year reprieve for those whose healthcare policies had been cancelled as a result.
But, just one day later, dozens of his Democratic allies in the House of Representatives sided with Republicans to back a bill the White House has said could gut the health law.
Many House Democrats are said to be worried that Obamacare's problematic rollout could hurt their 2014 midterm re-election chances.