George Zimmerman 'choked girlfriend' week before arrest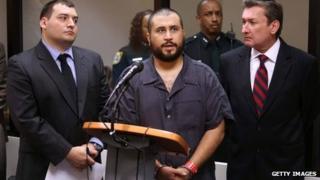 A Florida man acquitted of murder in the death of an unarmed black teenager allegedly choked his girlfriend, a week before his latest arrest.
Prosecutors made the allegation as George Zimmerman, 30, appeared in court on charges he pointed a gun at her.
He has had several brushes with the law since being acquitted of the February 2012 killing of Trayvon Martin, 17.
A judge set bail for Mr Zimmerman at $9,000 (£5,589) and barred him from possessing guns or ammunition.
He was also ordered to stay away from Samantha Scheibe's house, and to wear a monitoring device.
He was arrested on Monday after Ms Scheibe told police he pointed a shotgun at her during an argument.
Mr Zimmerman denied doing so in an emergency call.
In court on Tuesday, prosecutors said Ms Scheibe told them he choked her about a week ago but she did not report it to police at the time.
The sheriff's office spokesman said investigators believed Mr Zimmerman and his girlfriend had lived together since August and had been arguing about breaking up.
He said that Mr Zimmerman was not armed when police arrived and did not resist arrest.
Mr Zimmerman's acquittal of second-degree murder over the killing of Martin sparked a fierce debate about racial profiling and gun culture in the US.
Since then he has had several incidents with officials including being briefly detained following a domestic disturbance at the home of his estranged wife, Shellie.