US Senate blocks Robert Wilkins' nomination to top court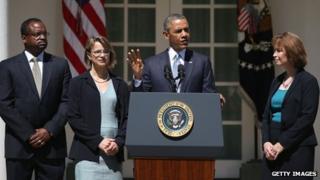 Republicans in the US Senate have blocked Democratic President Barack Obama's nomination of a judge to a key appeals court, the third such obstruction since October.
The Senate voted 53-38 to overcome a procedural manoeuvre delaying Judge Robert Wilkins' confirmation to the bench, seven shy of the needed 60.
Later, Mr Obama attacked the "completely unprecedented" obstruction.
Republicans say the Washington appeals court does not need more judges.
Mr Wilkins, a federal district court judge in Washington DC, was the third person nominated by Mr Obama to the US Court of Appeals for the District of Columbia Circuit to have his nomination blocked by Senate Republicans since 31 October.
In June, Mr Obama appointed Georgetown University law professor Nina Pillard, prominent Supreme Court lawyer Patricia Millett, and Mr Wilkins to fill three vacancies on the court.
Ms Millett's and Ms Pillard's nominations were blocked by the minority Republicans on 31 October and 12 November, respectively.
Mr Obama's first nominee to the court, Caitlin Halligan, was blocked in March by Republicans who objected to her politics. Sri Srinivasan was confirmed to the court earlier this year.
The Court of Appeals for the District of Columbia has a significant influence due to its jurisdiction over federal policy, and is frequently identified as the second most powerful court in the nation after the US Supreme Court.
Under the US constitution, the president's judicial appointments are subject to confirmation by the Senate.
Democrats hold a majority in the chamber, and say Republicans are abusing Senate procedural rules in an attempt to limit Mr Obama's influence over the judiciary. Federal judgeships are lifetime appointments.
'Standing in the way'
But Republicans have recently argued that the three vacancies on the Washington DC appeals court bench should be eliminated rather than filled.
"The fact of the matter is that the DC circuit is underworked," said Senator Charles Grassley, a Republican, of the decision to block Mr Wilkins' nomination on Monday.
In a statement released after the vote, Mr Obama said Senate Republicans "have once again refused to do their job".
He said four of Republican former President George W Bush's six nominations to the same court had been confirmed, while all but one of his had been blocked.
"When it comes to judicial nominations, I am fulfilling my constitutional responsibility, but Congress is not," he said. "Instead, Senate Republicans are standing in the way of a fully-functioning judiciary that serves the American people."
Monday's vote prompted some Democrats to propose changes in Senate rules to make it harder for the minority party to block nominations.
"This kind of delay for the sake of delay, this kind of treating this president different from other presidents, that is why there's momentum toward a change," Judiciary Committee Chairman Senator Patrick Leahy said.