Florida: Police ID body of passenger who fell from plane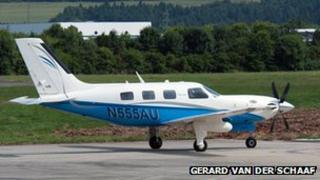 Authorities have confirmed that a body found in the water off Florida on Saturday is that of a man reported to have fallen from a plane last week.
Miami police said a post-mortem determined the body, located among mangrove trees, was Geraldo Nales.
A pilot reported Nales opened the door of his small plane at 1,800ft (548m) and fell into the Atlantic on Friday.
A cause of death has yet to be determined, but police say they have no evidence of foul play.
'Just fell'
On Friday, the as-yet unidentified 47-year-old pilot of the Piper PA 46 radioed for assistance at 13:30 local time, saying Nales opened the back door and "just fell".
"Mayday! Mayday! Mayday! I have a door ajar... and a passenger that fell down," the pilot can be heard saying in a recording from the air traffic control broadcast released by website Liveatc.net.
"You said you've got a passenger that fell out of your plane?" the air traffic controller asked.
"That's correct, sir," the pilot confirmed. "He opened the backdoor and he just fell down the plane."
The pilot made an emergency landing at a local airport in Tamiami, Florida.
Authorities have not released the name of the pilot, nor the nature of his relationship with Nales, 42.