Missing California family 'found in shallow graves'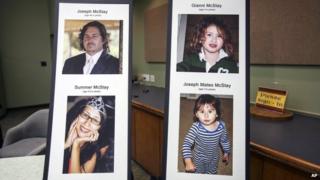 Bones found in the southern California desert are believed to be the remains of a family that went missing in February 2010.
Investigators confirmed Joseph McStay, 40, and his wife, Summer, 43, were found in shallow graves about 60 miles (96km) outside Los Angeles.
Officials presume other remains are those of the couple's sons, but they have not finished their DNA analysis.
The remains were found on Monday by an off-road motorcyclist.
Some of the bones had been dragged to the surface by animals, said police.
The family was at first believed to have crossed the border into Mexico.
Investigators originally thought grainy surveillance video had shown the McStays crossing into Tijuana, Mexico.
'Evidence at scene'
But San Bernardino County Sheriff John McMahon said there was no proof the family had crossed the border. The couple's death appears to be homicide, he added.
It is not yet clear when the McStays were killed, nor if they were killed in the desert or elsewhere.
But Sheriff McMahon said: "There is investigative evidence that is at the scene that will help complete the investigation."
Officials said the bodies of the McStays had been in the desert for an extended period.
The family left their five-bedroom home in the community of Fallbrook, north of San Diego, California, without telling anyone, leaving their two pet dogs in the backyard.
There was no sign of forced entry at the house and tens of thousands of dollars in the couple's bank accounts went untouched.
Their sport utility vehicle was found near the US-Mexico border.
The San Diego Union Tribune newspaper reported that a search of the family's computer showed that Summer McStay, a housewife, had bought Spanish-language software and someone had looked up passport requirements for children travelling to Mexico.
Joseph McStay's brother, Michael McStay, said it had been a "hard road" for the family not knowing what happened to the couple and their sons, Gianni, four, and Joseph, three.
"It's not really the outcome we were looking for, but it gives us courage to know that they're together and they're in a better place," a tearful Mr McStay said.