House Democrats help pass Republican-led healthcare bill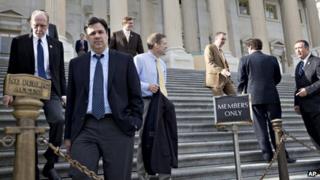 Dozens of President Barack Obama's Democratic allies have sided with Republicans to back a bill the White House says could gut its health law.
The House of Representatives passed the proposal by 261-157, with the help of 39 Democratic lawmakers.
The bill, which seeks to bypass the health law's minimum requirements for medical insurance, has little chance of making it on to the statute books.
But it is seen as the most significant legislative rebuke yet to the law.
Mr Obama has been under fire in recent weeks as insurance companies cancelled millions of Americans' medical insurance policies because they did not meet the stricter conditions of the healthcare overhaul.
That was despite the Democratic president's promise that people would be able to keep their existing plans.
'Frustrated and angered'
The Republican-sponsored bill would allow insurers to sell coverage that does not meet new guidelines mandated under the Affordable Care Act, which is known on both sides of the political divide as Obamacare.
The White House says the proposal would undermine crucial portions of its flagship domestic achievement.
It has vowed to veto the bill if it ever passes the Democratic-held Senate, which is seen as unlikely.
Nearly one-fifth of House Democrats broke ranks to vote for the proposal, in what was seen as a test of party loyalty.
Many House Democrats are known to be worried that Obamacare's problematic rollout could hurt their 2014 midterm re-election chances.
A separate issue with the law is the glitches bedeviling the federal website set up to sell the new insurance.
"I am frustrated and angered by the continuing problems with the healthcare website," Democratic congressman Ron Barber said following Friday's vote.
"Today I voted to give people the option to keep their current plan until these and other issues are resolved," he added. "That's only fair."
'Soliciting ideas'
House Democratic leaders said they would propose their own plan allowing insurers to renew policies earmarked for cancellation.
Meanwhile, Mr Obama met insurance executives on Friday to allay concerns regarding his proposed "fix" to the healthcare law.
On Thursday, he announced a one-year reprieve for those facing cancellation of their existing coverage.
The Republican plan passed on Friday goes one step further - it would allow insurers to sell health coverage to new, as well as existing, customers.
Insurers earlier raised doubts over the Obama plan, saying it could "destabilise the market and result in higher premiums for consumers".
Ahead of Friday's meeting, Mr Obama said he was "brainstorming" options and "soliciting ideas" from industry leaders on how best to enrol Americans in health plans.
The Obama administration is also still working to remedy its malfunctioning healthcare.gov website.
It was established by the law to enable consumers who do not get health insurance through their employers or via government benefits to shop for coverage.
Glitches have proven so severe that fewer than 27,000 people in 36 US states managed to enrol in healthcare policies in the first month after its October launch.
About 79,000 managed to enrol using websites run by the other 14 states and Washington DC.