Theodore Wafer charged in Detroit death of Renisha McBride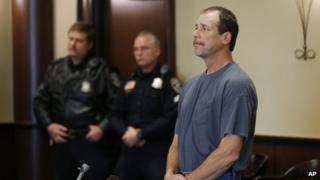 A Detroit homeowner has been charged with murder in the shooting death of a black teenager on his front porch.
Theodore Wafer, 54, shot Renisha McBride, 19, in the face on 2 November.
Ms McBride's family says she was disoriented and seeking help after a car crash. She was drunk at the time of her death, a post-mortem showed.
Mr Wafer has said he feared she was breaking into his home, but that he shot her by accident. The case has sparked racial tension.
Wayne County Prosecutor Kym Worthy said on Friday she would charge him with second-degree murder and manslaughter, as well as with possession of a firearm during the attempted commission of a felony.
Ms Worthy said Ms McBride was shot in the face after she approached Mr Wafer's home for help.
Stand your ground
Evidence shows the teen knocked on the locked screen door and there was no indication of forced entry, she said.
"These are the appropriate charges and he did not act in lawful self-defence,'' Ms Worthy said.
Mr Wafer was arraigned in a Michigan court on Friday.
A toxicology report on Ms McBride released on Thursday indicated she had a blood alcohol level of 0.218%, well above the state's drink-driving limit.
She was also found to have marijuana in her body, although it was not clear she had used the drug the day of her death.
A lawyer for Mr Wafer has said his client was "torn up" by Ms McBride's death, but that he had feared for his life at the time.
The Detroit branch of the National Association for the Advancement of Colored People applauded the charges in a statement.
"Often, many of us are very anxious and impatient when it comes to justice being equally applied in every situation," the group said.
"This particular case had the appearance that it might have been headed down the same road. While no trial has been held, and Mr Wafer has yet to be brought before the court, anxiety is still high as the jury is still a long way out."
Michigan is one of several US states with a so-called stand your ground law, which allows the use of deadly force if a person feels his or her life is in danger, though it is unclear whether that will be argued in this case.
She was shot as she stood on the porch in the predominantly white Dearborn Heights area shortly before 04:00 local time (09:00 GMT) on Saturday 2 November.
The Detroit Free Press reported that a car registered to Ms McBride's family had crashed into a parked vehicle about two hours before the shooting, a few streets away.
It is unclear what happened in the intervening time.
The case has attracted the attention of civil rights leader the Reverend Al Sharpton and Michigan congressman John Conyers.