Passenger 'falls' from small plane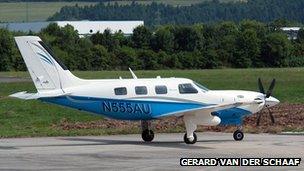 Florida authorities are searching for the body of a man who reportedly fell from a plane into the Atlantic Ocean.
The pilot of a small aeroplane flying near Miami reported to an air traffic controller that a passenger, later named as Geraldo Nales, 42, opened the back door and "just fell".
The incident occurred at 1,800ft (548m) nearly two miles from shore.
Search teams do not believe Mr Nales, a resident of Key Biscayne island, could have survived a fall from that height.
The search was suspended at dusk on Friday. Miami-Dade Police Department spokesman Javier Baez said investigators had no evidence of foul play.
Efforts to find Mr Nales' body will end on Saturday, Mr Baez said.
The as-yet unidentified 47-year-old pilot of the Piper PA-46 radioed for assistance at 13:30 local time (18:30 GMT) on Thursday.
"Mayday! Mayday! Mayday! I have a door ajar... and a passenger that fell down," the pilot can be heard saying in a recording from the air traffic control broadcast released by website Liveatc.net.
"You said you've got a passenger that fell out of your plane?" the air traffic controller asked.
"That's correct, sir," the pilot confirmed. "He opened the backdoor and he just fell down the plane."
The pilot made an emergency landing at a local airport in Tamiami, Florida.
The Federal Aviation Administration asked for assistance from the US Coast Guard and local rescue teams, who initiated a search for Mr Nales using helicopters and boats.
Florida's Miami-Dade police department launched a homicide investigation due to the "extremely unusual" nature of the incident.
"It's safe to say someone falling out of an airplane without a parachute is going to be deceased," department spokesman Lt John Jenkins said.
Authorities have not released the name of the pilot, nor the nature of his relationship with Mr Nales.