US mobster James 'Whitey' Bulger jailed for life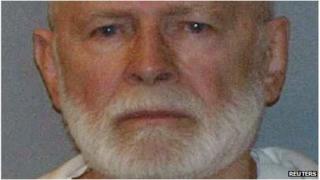 US mobster James "Whitey" Bulger has been handed two life sentences plus five years by a court in Boston.
Bulger, who led Boston's Winter Hill gang in the '70s and '80s, spent 16 years on the run before his 2011 capture in California.
The 84-year-old was convicted in August of 11 murders.
He had argued unsuccessfully that he was promised immunity by a now-deceased prosecutor in return for Bulger's offer of protection from other mobsters.
In sentencing, Judge Denise Casper told Bulger: "The scope, the callousness, the depravity of your crimes are almost unfathomable.
"Your crimes are made all the more heinous because they are all about money," she said.
On Wednesday, family members of some of the victims had a chance to confront him in the courtroom, with one man calling him a "terrorist" and "Satan".
At one point a courtroom heckler labelled him a coward after he opted not to testify in his own defence.
Over the course of the proceedings, Bulger's former associates detailed the methods he used to silence people.
Stephen 'The Rifleman' Flemmi described how Bulger persuaded him that his girlfriend had to die because she had learned about his dealings with a corrupt FBI agent.
Flemmi described how Bulger strangled her in front of him, and then explained how two other gang members disposed of the body.
Prosecutors called him a "sociopath" and portrayed him as a cold-blooded, hands-on boss who killed anyone he saw as a threat, along with innocent people who happened to get in the way.
But his lawyers tried to soften his image by producing a photo album showing him as an 'ordinary' man and insisting that their client was not "immune" to the emotions of the victim's families.
The FBI connection
The FBI also came under criticism from several family members of the victims, who said the organisation allowed Bulger to kill and torture while he worked as an informant on the crime group New England Mafia.
David Wheeler, the son of an Oklahoma businessman killed by a hitman from Bulger's gang, called him a "government-sponsored assassin", but said the "greatest shame of all" fell on the FBI.
"They are as responsible for that murder as the defendant here sitting before you," Mr Wheeler said.
But Bulger's defence sought to portray the FBI office that led the investigation into his alleged crimes as corrupt, arguing that the witnesses who testified against him were former criminals.
He was on the FBI's most wanted list alongside Osama Bin Laden.
But it was an FBI agent, John Connolly Jr, who tipped off Bulger with the plans to capture him.
Bulger fled in 1994 and was captured in 2011 with his long-time girlfriend Catherine Elizabeth Greig, a dental hygienist who, earlier this year, was sentenced to eight years for harbouring a fugitive.
Connolly was subsequently convicted of second-degree murder in Florida, for leaking information to Bulger that led to the slaying of a gambling executive.
Bulger is said to have been the inspiration for the gangster played by Jack Nicholson in Martin Scorsese's 2006 film The Departed.
In her summation, Judge Casper said "the testimony of human suffering that you and your associates inflicted on others was at times agonizing to hear and painful to watch.
"At times during the trial I wished that we were watching a movie, that what we were hearing was not real", she said.