US Marines killed in California base accident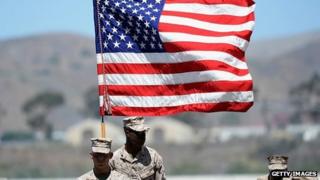 Four US Marines have been killed in what officials described as a tragic accident at a base in southern California.
They had been clearing unexploded ordnance at Camp Pendleton, near San Diego, a Marine official said.
The incident happened on Wednesday morning during a range maintenance operation. An investigation has been launched, a spokesman added.
No further details were released and the victims were not named.
"We offer our heartfelt prayers and condolences to the families of the Marines lost today in this tragic accident," said Brig Gen John W Bullard.
"Our first priority is to provide the families with the support they need during this difficult time."
In March, seven US Marines died in a training accident in Nevada.
Military investigators later ruled that human error had caused a mortar explosion during a night-time live-fire drill.