Memorial service for air safety officer shot in LA airport attack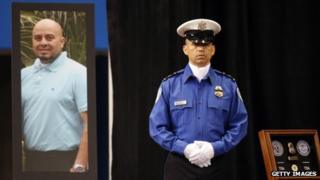 Hundreds of people have attended a memorial service for a federal security officer shot dead at Los Angeles International Airport this month.
Gerardo Hernandez, 39, was checking ID cards at Los Angeles International Airport on 1 November when a gunman killed him and wounded three others.
Hernandez was a father of two who immigrated from El Salvador at 15.
The suspect in the shooting, Paul Ciancia, 23, has been charged with the murder of a federal officer.
Mr Ciancia remains in hospital after being shot by police four times. His condition was upgraded Tuesday from critical to fair.
He will not appear in court on the charges until he is cleared by doctors.
'Spread the love'
Hernandez was the first Transportation Security Administration (TSA) agent killed in the line of duty since the agency was formed in 2001.
After coming to the US as a teenager, Hernandez married his wife on Valentine's Day in 1998. He had worked at the airport since 2010.
Among some 500 mourners at Tuesday's service at Los Angeles Memorial Sports Arena were high-ranking TSA and law enforcement officials, Los Angeles Mayor Eric Garcetti and US Attorney General Eric Holder.
Mr Garcetti said Hernandez's upbeat personality "spread the love through every corner of this earth" as he greeted travellers from around the world.
"Gerardo's story is like so many others in this city," Mr Garcetti said. "Coming here from another country, another state, another place to call this home."
Mr Holder, the top US law enforcement official, thanked TSA officials for their "unappreciated" work and said his department would not rest "until justice has been done".
"We will do everything in our power to ensure that those responsible for this senseless act can and will be held accountable to the fullest extent of the law," Mr Holder said.
Mr Ciancia allegedly entered Terminal 3 at the airport on 1 November with a rifle and shot Hernandez at close range.
Police say he had a handwritten letter stating he wanted to kill multiple TSA officers and "instill fear in your traitorous minds".
It is unclear why he targeted TSA officials.
Two other officers and a teacher waiting at the security checkpoint were wounded in the attack.