Montreal man shot with stun gun dies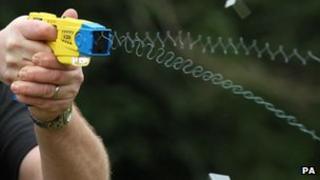 A Montreal man has died following a confrontation with police in which officers fired an electric stun gun at him, Canadian media report.
Donald Menard was pronounced dead at a local hospital on Monday night after the confrontation with police who were responding to a reported drug overdose.
Menard, 41, fought the officers, who used a stun gun to subdue him, police said.
Police said several officers were injured in the confrontation.
Menard was reported missing from the Philippe Pinel Institute - a detention centre for the criminally insane - on Sunday, according to the Montreal Gazette.
On Monday evening, Montreal police were called to some accommodation where a woman had fallen unconscious.
Menard struck a police officer in the face, reportedly breaking at least one tooth, say police.
CBC News reported that officers had responded with batons and pepper spray, eventually resorting to a Taser stun gun.
Menard initially refused to be transported to hospital but later lost consciousness.
He was taken to hospital and listed in a critical condition before being pronounced dead.
A woman believed to be involved in the matter was also treated for a drug overdose in hospital.
Quebec provincial police have opened an investigation into the matter.