Texas prosecutor Ken Anderson jailed for convicting innocent man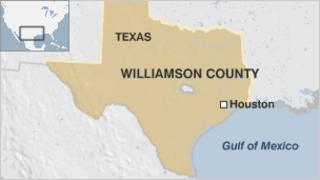 A former prosecutor in the US state of Texas has been sentenced to jail for his role in the wrongful conviction of an innocent man 26 years ago.
Ken Anderson agreed a plea deal that will see him serve 10 days in jail, perform 500 hours of community service and be disbarred.
He was charged with tampering with evidence in the 1987 murder trial of Michael Morton.
Morton spent 25 years in prison only to be exonerated by DNA evidence.
Anderson, also a former state judge, agreed a deal on Friday in the same Texas courthouse in which he used to preside.
He faced criminal charges and a civil lawsuit for allegedly withholding key evidence and making false statements to the court during Morton's trial in the beating death of his wife, Christine.
'Resolve the tragedy'
Lawyers for Morton said Anderson withheld a transcript of a police interview with Morton's mother-in-law and reports from neighbours saying they had seen a man in a green van parked in front of the Morton home several times before the crime, according to the Texas Tribune.
Morton was sentenced to life in prison for the murder but was freed in 2011 after DNA evidence tied the crime to another man. That suspect, Mark Alan Norwood, was found guilty earlier this year.
"I don't know if satisfying is the right word," Morton said following Anderson's court appearance on Friday.
"When it began, I was asked what I wanted. I said, 'The only thing that I want, as a baseline, is for Ken Anderson to be off the bench and no longer practice law,'" Morton told the Texas Tribune. "Both of those things have happened and more."
Anderson reportedly apologised to Morton for "failures in the system" but said he did not believe there was any misconduct, according to media reports.
"In a case like this, sometimes it's hard to say what meets the ends of justice and what doesn't," presiding District Judge Kelly Moore said on Friday.
"There's no way that anything we can do today will resolve the tragedy that occurred related to these matters."