Jimmy Carter's grandson to run for Georgia governor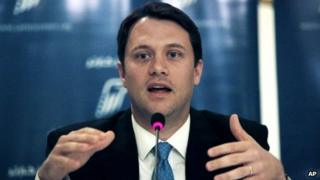 Former US President Jimmy Carter's grandson has announced he will run for governor of Georgia, following in the footsteps of his grandfather.
Jason Carter, 38, a Democratic state senator, said he would challenge the sitting Republican leader in 2014.
Nathan Deal, the current governor, is already facing primary challengers from within his own party.
Jimmy Carter was also a Democratic state senator, then Georgia governor, before becoming US president (1971-75).
The elder Carter said in a statement on Thursday he believed his grandson had already done "great things for Georgians through his service in the state Senate and volunteer work throughout the state".
Longshot?
The announcement was first reported by the Atlanta Journal-Constitution.
The BBC's Suzanne Kianpour, who is from Atlanta, Georgia, says the chances of a Democratic gubernatorial candidate in the Deep South state would not ordinarily be highly rated.
But Jason Carter is likely to have a well-funded campaign, she adds.
Meanwhile, Governor Deal is embroiled in an ethics scandal while fending off internal challengers, so an upset Democratic victory cannot easily be ruled out at this stage.
A recent opinion poll suggested a hypothetical match-up between Mr Carter and Mr Deal would leave the Republican incumbent with a 44%-40% advantage.
The younger Mr Carter was elected to the state senate in 2010. He says he plans to continue as a legislator during his 2014 gubernatorial bid.
"I've travelled around the state, and people believe our education system is on the brink," he told the Associated Press news agency on Thursday.
"People believe the economy is not working for the middle class, and people want to see an honest government that works for everyone.
"As a state we can't wait four years to start getting those right."
Democrats held sway in Georgia when Jimmy Carter was governor, but Republicans have dominated politics in the state since 2003 when the party saw its first governor take office in 132 years.