Last US Blockbuster video rental stores to close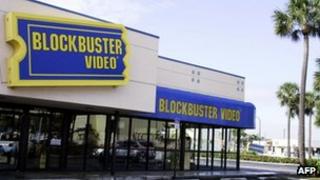 The last 300 Blockbuster Video film rental stores in the US are closing in the face of unrelenting competition from online digital video, corporate parent company Dish Network has said.
About 2,800 people are expected to lose their jobs by early January.
The once-dominant chain filed for bankruptcy, pummelled by Netflix's DVD-by-post and online streaming services.
Dish Network, a satellite television provider, will also end Blockbuster's own DVD-by-post service in December.
About 50 US stores that are operated as independent franchises will remain open.
"This is not an easy decision, yet consumer demand is clearly moving to digital distribution of video entertainment," said Joseph Clayton, Dish president and chief executive officer, in a statement.
"Despite our closing of the physical distribution elements of the business, we continue to see value in the Blockbuster brand, and we expect to leverage that brand as we continue to expand our digital offerings."
The firm's UK division was sold to private equity firm Gordon Brothers Europe in March, two months after it went into administration.
But Blockbuster UK went back into administration in late October, as Gordon Brothers said it was unable to broker a licensing deal with Dish to start a new digital platform for the brand.
The BBC has learned that Blockbuster's UK online subscription service has been suspended.