Virginia governor race: McAuliffe and Cuccinelli campaign on election eve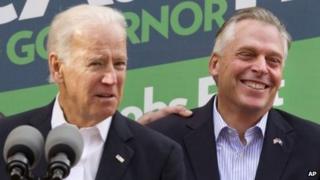 The two leading candidates to be Virginia governor are on their last day of campaigning, in a race that is being closely watched nationwide.
Democrat Terry McAuliffe, a former key Clinton aide, has a solid opinion poll lead over Republican Ken Cuccinelli, who is backed by tea party activists.
The candidates have traded blows on the troubled Obama healthcare law and the recent government shutdown.
Virginia voters go to the polls on Tuesday.
Long a Republican stronghold, Virginia has been reshaped demographically in recent years in a trend mirrored across the nation.
The outgoing governor, Bob McDonnell, is a Republican, but Democratic President Barack Obama won the state in the 2008 and 2012 White House elections.
On Monday, Vice-President Joe Biden joined Mr McAuliffe on the campaign trail near the Washington DC suburbs.
The state's northern section abuts the US capital city, making it an easy trip for politicians.
On Sunday, the candidate was joined by Mr Obama, who told a Virginia crowd: "This election is going to say a lot about Virginia's future and about the country's future."
Mr McAuliffe was co-chairman of former President Bill Clinton's re-election campaign and chairman of Hillary Clinton's 2008 presidential campaign. Both have also made campaign appearances on his behalf.
Mr Cuccinelli was joined in Monday's last-minute dash for votes by Republican Senator Marco Rubio.
Mr McAuliffe, who appears to have a comfortable lead in the race, has characterised his opponent as part of a tea party-backed wave of ideologue conservative politicians.
The Democrats have ridiculed Mr Cuccinelli's efforts to reinstate a Virginia statute that banned sodomy.
On Monday, Mr Biden told supporters that if Mr Cuccinelli, the current Virginia attorney general, wins the election, the state would have to offer subsidies to firms to locate there because of his policies on women's healthcare and gay rights.
Democrats have also attempted to tie the Republican candidate to last month's Republican-led federal government shutdown.
Mr Cuccinelli has meanwhile sought to link Mr McAuliffe to the healthcare law, which is facing a backlash over the glitches plaguing its website selling insurance policies, and complaints from a number of Americans that they are now facing more costly premiums.
The Democratic candidate has vowed that under his governorship Virginia would embrace the healthcare law, commonly known as Obamacare.
During a campaign stop on Sunday, Mr Cuccinelli said: "I'm scared to death about what Obamacare is doing to Virginians. Terry McAuliffe is scared to death what Obamacare is doing to Terry McAuliffe. Tomorrow, we need to have his fears fulfilled."
Mr Cuccinelli has also argued against stricter gun control efforts and coal regulations. Virginia is among several states involved in the US coal industry.