NY stop-and-frisk overhaul blocked and judge removed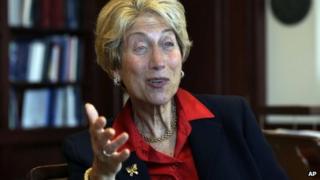 A US appeals court has blocked changes to a controversial New York City police programme that a judge ruled had violated the rights of minorities.
In an unusual move, the Second Circuit also removed Judge Shira Scheindlin from the stop-and-frisk case.
The court said her impartiality was called into question by media interviews she gave during the trial.
The policy, in which police stop and search those they suspect of criminal behaviour, reached its peak in 2011.
In August, Judge Scheindlin ruled the New York Police Department had violated the US constitution in the way it carried out stop and frisk, but not through the policy itself.
'Aspersions cast'
Specifically, she said the NYPD had wrongly targeted black and Hispanic men.
Her ruling implemented immediate changes, including an outside monitor and a test programme of body cameras on police in areas where the most stops occur.
But now those changes will be put on hold until the appeals trial goes forward sometime after March 2014.
Opponents of Judge Scheindlin's changes have argued they would lower police morale and make officers wary of carrying out stops.
Democratic mayoral candidate Bill de Blasio, who has spoken out against the programme, said he was "extremely disappointed" in Thursday's decision.
Lawyers for the Center for Constitutional Rights, who originally sued the police department on behalf of several men who had been stopped, said it was shocked that the appeals court had "cast aspersions" on the judge's conduct and reassigned the case.
In 2012, police stopped and frisked 533,042 people on the streets of New York, up from about 115,000 in 2002, according to the Center.
About 87% of those were black or Hispanic.
In about half of all cases, police merely asked questions. But in other cases authorities searched a bag or performed a full pat-down search.
About 10% of searches reportedly result in arrests, and sometimes weapons were seized.