Payout in Jerry Sandusky Penn State sex abuse case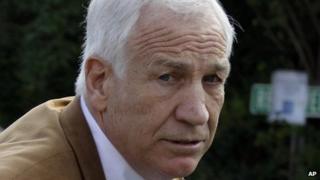 A US university will pay $60m (£37m) to 26 men who said they were sexually abused as children by a football coach.
Penn State University President Rodney Erickson called the payments "another step forward in the healing process".
Former coach Jerry Sandusky, 69, was convicted in 2012 of abusing 10 boys over 15 years. He was sentenced to 30-60 years in prison.
Sandusky's November 2011 arrest triggered a crisis at the US university famed for its football programme.
The scandal led to the firing of the university's revered head football coach Joe Paterno, who was accused of protecting Sandusky.
Penn State's president was also fired and the football team was heavily sanctioned by the governing National Collegiate Athletic Association (NCAA).
Three former high-level administrators at the university, including the president, are set to be tried on charges they covered up the ongoing abuse. They have denied the charges.
'Treated fairly'
In a statement, the university said 23 settlements were fully signed and three were agreed in principle. The names of the recipients were not disclosed.
The school said it had received six other claims of abuse and believed some of those lacked merit. The university is expected to pay for the settlements primarily through liability insurance.
A lawyer for some of the men who received settlements said his clients were largely satisfied by the payouts.
"They felt that the university treated them fairly with the economic and non-economic terms of the settlement," Ben Andreozzi told the Associated Press news agency.
Mr Erickson said, "We cannot undo what has been done, but we can and must do everything possible to learn from this and ensure it never happens again at Penn State."
Sandusky, who met the boys through a charity for underprivileged youth he founded, has appealed against the verdict and maintained his innocence.