Chinese relative arrested for deadly New York stabbings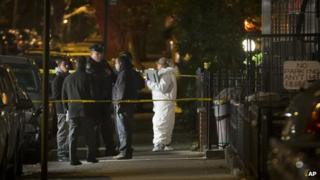 A Chinese immigrant has been arrested after a mother and her four young children were found stabbed to death at their home in Brooklyn.
New York police said 25-year-old Ming Don Chen had implicated himself in the killings, according to AP.
The arrested man is a cousin of the children's father, police said.
Emergency services were called to the home late on Saturday night, and found the five victims with multiple stab wounds.
Three of the children were pronounced dead at the scene. The mother and a five-year-old boy were taken to separate hospitals, but both were pronounced dead on arrival.
The victims have been named as 37-year-old Qiao Zhen Li and her children William, Kevin, Amy and Linda Zhuo, aged between one and nine.
Police Chief Phil Banks said the victims "were cut and butchered with a kitchen knife".
The man had been staying at the family home for the past week or so, he said.
The deaths occurred in the Sunset Park neighbourhood of Brooklyn, where there is a large Chinese community.