US quarterback Brett Favre 'suffers memory loss'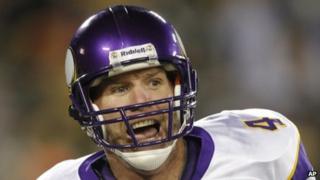 One of the greatest quarterbacks in American football history has said he suffers from memory loss after a 20-year career in the violent sport.
Brett Favre, 44, told a broadcaster he had little recollection, for example, of his daughter's sport activities over a several-month period.
He questioned the toll that two decades of on-field hits had on his memory.
His remarks come amid a national debate about violence in football and its long-term effects on the players.
Mr Favre played 321 consecutive games in the National Football League (NFL), most with the storied Green Bay Packers in the state of Wisconsin.
He played in two Super Bowl championships, winning one. He retired in 2010.
Mr Favre's comments make him the latest in a growing number of former players to come forward in recent years complaining of symptoms of brain injury from repeated knocks on the head.
"I don't remember my daughter playing soccer, playing youth soccer, one summer," Mr Favre said.
"This was pretty shocking to me that I couldn't remember. That's a little bit scary to me. For the first time in 44 years, that put a little fear in me.
"I think after 20 years [of playing football], God only knows the toll."
American football players are routinely exposed to injury in the full-contact sport. The quarterback leads the side on offence and can be tackled at high speed several times in a game by large, fast defensive players.
Studies have linked repeated concussions with chronic traumatic encephalopathy, a malady with symptoms including memory loss and mood swings.
Mr Favre's comments come just months after a judge ordered the NFL to pay $765m (£463m) to more than 4,500 former players who sued the league, alleging it concealed the risks of long-term brain damage.
The class action accused the NFL of hiding research that had shown the harmful effects of concussions, while glorifying and promoting violent play.