Five hurt on North Carolina carnival ride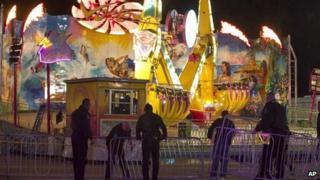 Five people have been injured, two critically, after a carnival ride at the North Carolina state fair started up again as people were getting off it.
Investigators are looking into what exactly caused the Vortex to malfunction on Thursday.
State agricultural commissioner Steve Troxler said those at the fair were "shaken by this".
But he said the accident was an "isolated incident" and he remained confident the rides were safe.
Two of the injured, who ranged from age 14 to 39, have been released from hospital.
The Vortex, which spins, twirls and flips passengers upside down is one of 93 rides at the state fair this year.
Witnesses quoted by local media said several people were thrown from the ride, and some appeared unconscious.
Among the possible causes investigators are reviewing is a safety switch that malfunctioned on the ride on Monday, Tom Chambers, the ride inspection unit chief, said.
Mr Chambers said at the time of the accident, the ride's operator was at the controls while an attendant was helping people off.
The fair was reopened as scheduled on Friday, but the Raleigh News-Observer newspaper reported the Vortex would remain close throughout the rest of the fair, which closes on Sunday.