Two injured in Tennessee shooting near naval base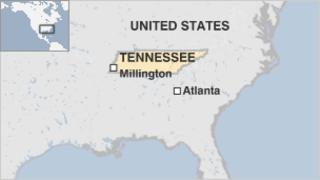 A US National Guard worker is in custody after a shooting near a naval base in Tennessee that injured two people, officials have said.
Police responded to a report of a shooting at 12:47 local time (17:47 GMT) inside the National Guard armoury in Millington.
They found workers had already apprehended the alleged gunman.
US media reported that the suspect had recently been fired from his position with the National Guard.
Naval Support Activity Mid-South in Millington was briefly put on lockdown as a precaution, the Navy said.
Millington Police Chief Rita Stanback said each wounded National Guard member had been shot once, both near the lower leg. The US Navy said the injuries were "non-life threatening".