Matthew Cordle sentenced to six years for drink-drive crash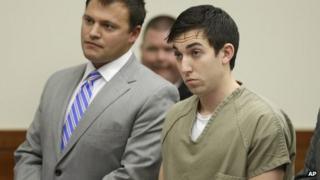 A judge has sentenced an Ohio man who confessed in an online video to a fatal drink-driving crash to six years in prison.
Matthew Cordle, 22, had faced up to eight years for the crash that killed Navy veteran Vincent Canzani in June.
In a video posted to YouTube in September, he confessed to the crime and promised to plead guilty.
Franklin County Judge David Fais revoked Cordle's driving privileges for life as required by state law.
In Wednesday's sentencing, the judge read a letter from Vincent Canzani's ex-wife, who said she believed her former husband would not have wanted a maximum sentence. She said she believes Cordle's promise never to drink and drive again.
Cordle's father, Dave Cordle, did not ask for leniency as he told the judge he was "disappointed, disgusted and heartbroken" at his son's actions on the night of the crash.
In the video, Cordle said he was confessing and accepting responsibility in order to discourage others from drinking and driving.
"I'm begging you," he said towards the end of the three-and-a-half minute video, "please don't drink and drive. Don't make the same excuses that I did".