Boston bomb suspect Tamerlan Tsarnaev named in triple murder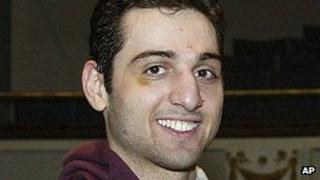 The dead suspect in the Boston marathon bombings has been named in court papers as a participant in a triple murder.
Tamerlan Tsarnaev is alleged to have taken part in the killings in Waltham, Massachusetts, in September 2011.
Three men, one of whom had been a friend of Tsarnaev, were found in a flat with their necks slit and bodies reportedly covered with marijuana.
A Chechen immigrant, Ibragim Todashev, implicated Tsarnaev in the crime, investigators said in a court filing.
Todashev was shot and killed in May this year at his home in Orlando, Florida, during a confrontation with police officials who had been interviewing him about his links to Tsarnaev.
According to Monday's court filing, Todashev, 27, had told investigators he himself was also involved in the triple homicide.
US media have reported widely, citing police sources, on investigators' suspicions that 26-year-old Tsarnaev was involved in the unsolved crime, but the court filing was the first public official confirmation.
His younger brother, Dhokzar Tsarnaev, is awaiting trial on multiple charges for the April marathon bombing, which killed three people and injured more than 260.
"The government has already disclosed to [Dhokzar] Tsarnaev that, according to Todashev, Tamerlan Tsarnaev participated in the Waltham triple homicide," prosecutors wrote in Monday's court filing.
Prosecutors argue that Dhokzar Tsarnaev, 20, should be blocked from gaining further information about their ongoing investigation into the triple murder because it could harm their case if details become public.
Mr Tsarnaev, who was found hiding inside a boat in a backyard garden after a two-day Boston-area manhunt, has pleaded not guilty.
His brother was killed during a shootout with police the night before the younger Mr Tsarnaev's capture.