Daisy Coleman supporters rally as Missouri rape case reopens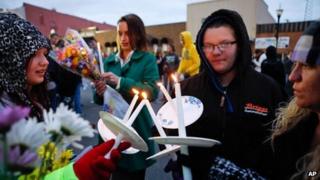 Several hundred people have rallied outside a court in the US state of Missouri to demand justice for a teenage alleged rape victim.
Daisy Coleman says she was assaulted and left on her family's porch in freezing weather in the city of Maryville in January last year.
Charges were initially dropped against a 17-year-old boy, but a special prosecutor was appointed on Monday.
Ms Coleman's mother has said the family had to move because of harassment.
The case has drawn comparisons to one in Steubenville, Ohio, where two 17-year-old football players were convicted of raping a girl after an alcohol-fuelled party in 2012.
It was furiously debated online and led to allegations of a cover-up to protect the city's celebrated high school football team.
'Without fear and favour'
Missouri women's rights activist Courtney Cole organised Tuesday night's protest via social networks, receiving help from the hacking group Anonymous in spreading the word.
Several hundred demonstrators attended the rally, though about 2,300 had said on a Facebook page entitled Justice for Daisy that they would attend.
Neither the younger Ms Coleman nor her mother, Melinda Coleman, were at the rally.
On Monday, Jackson County prosecutor Jean Peters Baker was named by a judge to be special prosecutor.
"This case will be thoroughly reviewed," Ms Baker said, promising to approach the investigation "without fear and without favour".
"Politics, connections or any other reason you can think of will not play a role in our review of this case. It will be the evidence."
Ms Coleman's case received national attention after an investigation by the Kansas City Star newspaper, and several interviews the family has granted to broadcasters.
The alleged rape victim, who was then 14, and a 13-year-old friend, left the Colemans' house in the middle of the night on January 2012 to meet several boys.
The 13-year-old friend said she was forced to have sex with a 15-year-old, who was charged as a juvenile.
Ms Coleman said she was given alcohol, sexually assaulted and then left passed out on her family's front step in freezing temperatures.
Charges against a 17-year-old boy were dropped two months later by Nodaway County prosecutor Robert Rice.
Mr Rice and the county sheriff have said their investigation fell apart because the Colemans were unco-operative.
The Colemans deny this and accuse investigators of not doing enough to push the case forward.