Obama official Jofi Joseph fired over insulting tweets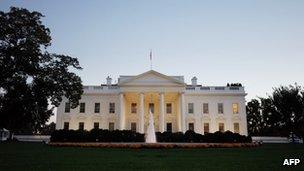 A senior White House official has been sacked after being unmasked as the man behind a widely read Twitter account that provided an abrasive commentary on his colleagues for more than two years.
A government official said Jofi Joseph, 40, was fired from his job on the National Security Council nuclear non-proliferation team.
Mr Joseph posted under the now defunct Twitter name @NatSecWonk.
He apologised for his "inappropriate and mean-spirited comments".
In his tweets, Mr Joseph gave a lacerating commentary on anything from policy to personal appearance.
"Was Huma Abedin wearing beer goggles the night she met Anthony Weiner," he tweeted, referring to the scandal-hit former New York mayoral candidate and his wife, a former aide of Hillary Clinton.
"Almost as bad a pairing as Samantha Powers and Cass Sunstein," he added, referring the US envoy to the UN and her husband, who is a former White House official.
This month, Mr Joseph joined Republican attacks on Mrs Clinton for perceived failings of her handling of last year's attack on the US diplomatic post in Benghazi, Libya.
He tweeted that Mrs Clinton "had few policy goals and no wins" in the Middle East.
He said Chelsea Clinton was "assuming all of her parents' vices" and targeted figures such as Republican commentator Liz Cheney and Mitt Romney's wife Ann for their looks and weight.
Mr Joseph also turned his caustic commentary on Republicans.
"So when will someone do us the favor of getting rid of Sarah Palin and the rest of her white trash family?" he tweeted last October. "What utter useless garbage."
Mr Joseph's wife is reportedly a staff member for Republicans on the Senate foreign relations committee.
The Daily Beast website broke the news of his sacking, describing it as a shock and saying Mr Joseph was "well known among policy wonks".
But it said that "inside the administration, there was little sympathy for the man who they feel had betrayed their confidence while taunting them all the while".
The website Politico said White House officials had worked over months to discover the identity of Mr Joseph - a key member of the team negotiating over Iran's nuclear programme.
It said his travel and shopping habits had been profiled by parsing over 2,000 tweets.
Politico said his tweets had been "obsessively and angrily followed" by Washington officials, even though the messages had been "barely noticed" outside the capital.
In an apology emailed to Politico, Mr Joseph said: "It has been a privilege to serve in this administration and I deeply regret violating the trust and confidence placed in me.
"What started out as an intended parody account of DC culture developed over time into a series of inappropriate and mean-spirited comments. I bear complete responsibility for this affair and I sincerely apologise to everyone I insulted."