Libya terror suspect Abu Anas al-Liby in New York court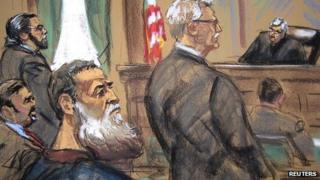 A suspected Libyan militant leader seized earlier this month in a US raid in Tripoli has appeared for a second time in a federal court in New York.
Abu Anas al-Liby was represented by a lawyer paid for by the Libyan government, a source involved in the case told the BBC.
Mr Liby is accused of having links with al-Qaeda and of involvement with the bombings of two US embassies in 1998.
He has pleaded not guilty to terrorism charges.
Mr Liby, 49, whose real name is Nazih Abdul-Hamed al-Ruqai, appeared in court to discuss his legal counsel.
At his previous hearing, Mr Liby was represented by court-appointed public defenders, having said he could not afford an attorney of his own.
A source involved in the case told the BBC's Nada Tawfik at the court that the Libyan government had decided to hire a lawyer to represent him.
His lawyer, Bernard Kleinman, declined to say who had retained him.
Mr Kleinman told the court that it would take several months to sort through hundreds of thousands of documents before the case could proceed.
He also requested the return of Mr Liby's personal copy of the Koran which he said had been confiscated during his capture.
Mr Kleinman said he had met Mr Liby for the first time earlier on Tuesday.
He told the judge that he represents at least one prisoner held at the US detention centre in Guantanamo Bay, Cuba.
Mr Liby's next court appearance was set for 12 December.
There has been anger in Libya over the US commando raid on 5 October, which many say was a breach of Libyan sovereignty.
Prime Minister Ali Zeidan argued that Libyan nationals should be tried in Libya. However, he said that ties between Tripoli and Washington would not be affected by the issue.
Mr Liby was first put on a US Navy ship for interrogation but brought to the US when his health began to deteriorate after he stopped eating and drinking, a US official said.
Mr Liby had been on the FBI's most wanted list for more than a decade, with a $5m (£3.1m) bounty on his head.
He was indicted by a New York grand jury in absentia in 2000.
The attacks on the US embassy in Nairobi, Kenya, and the US diplomatic mission in Dar es Salaam, Tanzania, killed more than 200 people and wounded thousands.
Most of the victims were civilians.