US Capitol dome to undergo $60m renovation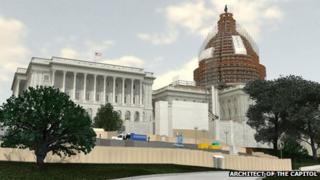 The dome atop the US Capitol building will undergo an extensive two-year renovation to repair more than 1,000 cracks, officials have said.
The cast iron dome is more than 150 years old and has not been completely restored since 1960.
The project, budgeted at nearly $60m (£37m), will begin in November.
Scaffolding will be erected but the renovation is expected only minimally to disrupt legislative business and tourist visits, officials said.
Age and weather
"As stewards of the Capitol for the Congress and the American people, we must conduct this critical work to save the dome," Architect of the Capitol Stephen Ayers wrote in a statement announcing the launch of the renovation.
Mr Ayers said that while the dome looked "magnificent" from afar, under the paint, age and weather had taken a toll.
An independent contractor was selected to perform the restoration and will conduct the majority of the work during nights and weekends, Mr Ayers's office said.
A network of scaffolding will be erected on the outside of the dome, while a white canopy system "in the shape of a doughnut" will be installed on the interior to protect the public.
The Capitol building is the seat of the House of Representatives and the Senate, and it and the surrounding complex hold office space for members of Congress and their staffs.
The building receives an estimated three million visitors each year.