Calgary mayor Naheed Nenshi re-elected in landslide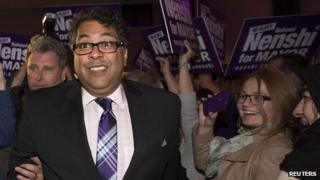 The mayor of Calgary has won an overwhelming re-election victory, after receiving accolades earlier this year for his handling of devastating floods.
Naheed Nenshi won 74% of the vote on Monday against eight opponents, three years after he became the first Muslim mayor of a major North American city.
"Calgarians have spoken loud and clear," Mr Nenshi, 41, said to supporters on Monday evening.
The city of 1.1 million was among the hardest hit by Alberta's June floods.
More than 100,000 people were forced to evacuate their homes in Calgary and the surrounding areas.
Mr Nenshi's handling of the aftermath, which left the city waterlogged for a week, received national attention.
The mayor's round-the-clock media briefings, warnings about safety and a relentless string of Twitter updates spawned the hashtag #nap4nenshi, imploring him to get some sleep.
Most of the city council was re-elected as well in Monday's elections, broadcaster CBC reports.